Recommended Tours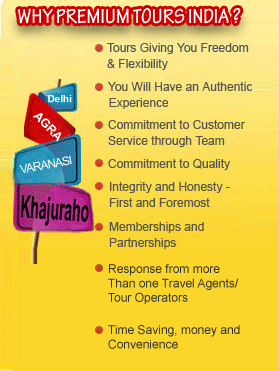 You Are Here >> Premium Tours India >> Must Visit Attractions >> Camel Safari
Camel Safari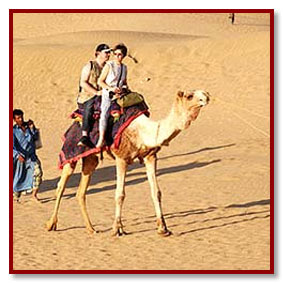 Camel Safari is one of the unique way to explore small villages in Rajasthan. Camel Safaris at the top of this ship of the desert is most exciting and soft adventure. Riding a camel is not easy as people consider. It is neither a great test for endurance. It is a great experience to explore The Thar - a vibrantly, living, desert, very colourful and hospitable.

Itineraries of 2 to 7 days can be arranged traversing approx. 40-50 kms a day on camel. These itineraries are planned in the region of Bikaner, Khimsar, Osian and Jaisalmer. Nights halts are usually given near the village to provide opportunities to mingle with the local village folks and to provide insight to the traditional way of their life and culture. Besides one camel per pax on the safari, a camel cart accompanies on the tour to handle baggage and allow riders to take rest as and when required.

Our tours include three meals a day, tea/coffee, two mineral water bottles per day, an escort and tents on sharing basis, kitchen tent, toilet tents with pit system, foam mattresses and entertainment by local artisans.

Best Time To do Camel safari : -

Camel safari is done normally in the desert of Thar desert of rajasthan & due arid & hot conditions of rajasthan it is advisable to do camel safari in evening and early morning of the days in the months of April to August and if we talk about any time of day to camel safaris then it is possible in the months of September to March.
Contact Our Travel Expert - Get Free Suggestions on your India Tour