Recommended Tours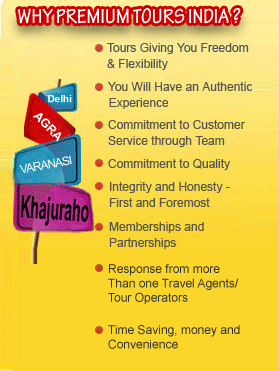 You Are Here >> Premium Tours India >> Wildlife Trip >> Tiger Tour in India
Tiger Tour in India
Duration : 9 Nights / 10 Days
Destinations Covered : Delhi - Nagpur - Kanha Tiger Reserve - Bandhavgarh - Umaria - Agra - Fatehpur Sikri - Ranthambhore - Delhi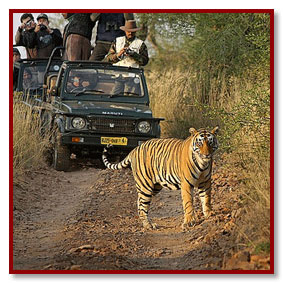 Day 01 Arrive Delhi
Late night Arrival. Meeting and assistance upon arrival as our representatives welcome you and escort you to your car.
Whilst the room keys and check-in is organized, our representative would introduce the tour to you and hand over the documents to you.
Welcome to India, or as we say 'atithi devo bhava'(the guest is an incarnation of God). Thank you for giving us the opportunity to serve you!
Overnight at hotel.
Day 02 Delhi / Nagpur
Nagpur / Kanha
Early morning, transfer to the airport to board your flight to Nagpur
Meeting and assistance upon arrival and drive to Kanha
On arrival, transfer across the countryside to your safari headquarters for a two-day exploration of this vast, unspoiled central Indian preserve.
Upon arrival, check into Mogli Resort
Afternoon jungle excursion
Overnight at Resort (Standard room)
Day 03 Kanha Tiger Reserve
Kanha National Park, which is one of the most well known tiger reserves worldwide, is located among the Banjar and Halon valleys in the Mandla / Balaghat districts of the state of Madhya Pradesh. Its creation took place among, and after, a lot of turbulence and storm within concerned circles regarding rampant killing of wildlife in the area at the time. The central Kanha valley was declared a sanctuary way back in 1933 but got its status as a National Park in 1955. It covers a large area of 1,945 square kilometers, out of which 940 square kilometers form the main park. The altitude of the park ranges from 450 meters to 900 meters above sea level. The temperature, depending on the season, ranges from 0 degrees in the winters to 48 degrees in the summers. The park remains open from the 01st of November to the 30th of June. Sometimes, as with most parks of the country, it can be closed earlier if the monsoon season arrives sooner than expected. The park has a heavy monsoon season with an average annual rainfall of 1600mm. The basic infrastructure at the park is well developed and visits can "mostly" be expected to pass without any problems.
Kanha is also famous for it's animal conservation efforts made in collaboration and cooperation with the local resident communities. One of the famous success stories of the park is the survival of the Barasingha population in the park, which went down to as low as 66 animals in 1970 from the earlier 3000 and which through huge efforts have now revived to a respectable number of around 1000. Kanha boasts of many such success stories of which this is only an example.
Kanha National Park is world famous for it's tigers. Tiger sightings are not as rare as in most other parks of the country. The only other reserves in the country that can claim to have as many sightings as Kanha are Ranthambor and Kanha's own neighbour, Bandhavgarh.
Other than the tiger, some of the more frequently seen animals in the park consist of Leopards, Gaur,
Chausinghas, Sloth Bears, Barking Deer, Swamp Deer (Barasingha), Blackuck, Langurs, Wild Boars, Porcupines, Mouse Deer, Hyenas, Jackals and Wild Dogs (Dholes).
The reptile residents of the park consist of Monitor Lizards, Pythons and a large variety of other snakes.
Overnight at Mogli Resort (Standard room)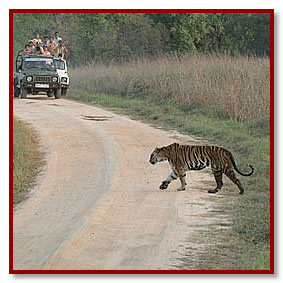 Day 04 Kanha / Bandhavgarh
Morning, we will drive to Bandhavgarh
Bandhavgarh National Park, situated amid the airy Vindhya hills of Madhya Pradesh, has established a reputation as one of the best places in India to observe Tigers. Although a relatively small reserve when first established in 1968, it was enlarged twenty years later to include adjacent tracts of Sal forest and this extension has proved very beneficial for the Tiger population. The 105 square kilometres of park area, open for tourists is estimated to have a population of 22 tigers, a density of one tiger for every 4.77 square kilometres.
Like many Tiger reserves in India, the area was formerly the hunting reserve of a Maharaja and contains much evidence of its royal associations, most spectacular being the ruins of a huge hilltop fort, which dominates the centre of the reserve. Bandhavgarh is somewhat isolated in the rural heart of India but the long overnight train journey from Delhi is well worth the effort and visitors are richly rewarded by a fine selection of wildlife and the real chance of never to be forgotten encounters with the greatest of the big cats.
Upon arrival check into Mogli Resort
Late afternoon (Subject to your time of arrival), enter the park to search for wildlife.
Overnight at Mogli Resort (Standard room)
Day 05 Bandhavgarh Tiger Safari
The pattern of early morning and afternoon excursions will be interspersed with periods of relaxation back at our accommodation during the heat of midday. Although Tigers are the star attraction at Bandhavgarh the supporting cast of mammals and birds is very impressive, the latter including such species as Grey-headed Fishing Eagle, Plum-headed Parakeet, Malabar Pied Hornbill, Greater Racket-tailed Drongo and Asian Paradise Flycatcher among a total of over 250 species recorded in the district. Tour members with an interest in ornithology will value the time between game drives as an pzportunity to explore some of the habitats close to our base.
Tigers, and the more rarely seen Leopards, have no shortage of prey in the reserve. The Spotted Deer or Chital is a favourite item on the Tiger menu and several thousand of these delightful deer inhabit the park.
Other species found here in varying abundance include; Chinkara, Chowsinga, Wild Boar, Sambar, Muntjac and Nilgai. Herds of the Asian Bison, or Gaur, formerly Inhabited the Reserve but impressive beast has not been seen at Bandhavgarh since 1998 although a closely monitored programme for the reintroduction of the Gaur is planned within couple of years. A hunting pack of wild dogs may also be seen on occasions. Mammal sightings always require a degree of luck, particularly when the species is essentially nocturnal or reclusive but each outing in the reserve will at least provide a chance to meet one of the rarer inhabitants such as Sloth Bear, Indian fox, Jackal, Wolf, Ratel, Striped Hyenas, Jungle Cat or Indian Pangolin. More predictable are the sounders of Wild Boar rooting among the vegetation, Indian Hares, the lively little Palm Squirrels that seem to be constantly in a state of agitation, and several members of the mongoose tribe. Common Langurs and Rhesus Macaques are also plentiful, the former enjoying an elevated view of the forest as they devour their favourite leaves and often the first creature to bark out a warning at the appearance of a Tiger below.
We are never short of wildlife to watch in this gem of a reserve.
Overnight at Mogli Resort (Standard room)
Day 06: Bandhavgarh / Umaria (40 Kms)
Umaria / Agra (Kalinga Utkal Express – 2050 / 1030* Hrs)
Morning search the game parks
Evening transfer to Umaria train station to board an overnight train journey to Agra
Overnight - First Class Air Conditioned Sleeper Accommodation (accompanied by blankets, sheets and pillows)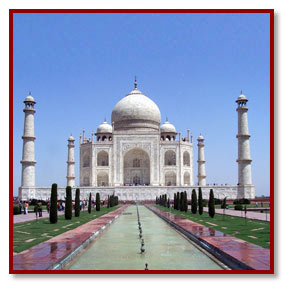 Day 07 Arrival / Agra
Meeting & assistance upon arrival check into hotel.
After a leisurely breakfast, we ride to the massive Agra Fort. The elegant buildings inside reflect an interesting synthesis of Hindu and Central Asian architectural styles. Built by Emperor Akbar, the maze of the courtyards, mosques & private chambers of the fort echo the story of the Mughal Empire. The Moti Masjid & other magnificent buildings reflect the skill of the ancient Indian architects.
Agra is the city of the Taj Mahal, perhaps the most photographed monument in the world. However, there is a degree of enigma about the Taj. Once you hear about a building so much and once you see so many pictures of a building your expectations are real high; and this is the enigma about the Taj Mahal. No matter how many pictures you have seen or no matter how high your expectations are the Taj never lets you down - the unparalleled glory and beauty of the building surpasses beyond all human imaginations. At sun set we visit the Taj Mahal to witness this spectacular monument built for love. Besides perfect symmetry in every aspect of its construction, the inlay work of semi precious stones into marble in pietra dura style is absolutely remarkable.
Overnight at agra hotel.
Day 08 Agra / Fatehpur Sikri / Ranthambhore
Morning, we drive to Ranthambhore, stopping at deserted Capital City of Fatehpur Sikri. This abandoned capital of the Mughals is a perfectly preserved city at the height of the empire's splendour. The city divided into religious and secular parts has interesting well-sculpted buildings. From here we continue our ride to Ranthambhore
Upon arrival check in to Pugmark – a Wildlife Resort
Afternoon jungle excursion in open top vehicle
Overnight at Pugmark – a Wildlife Resort
Day 09 Ranthambhore Wildlife Tours
Morning and evening jungle excursions in open top vans. Ranthambhore is known to have India's Friendliest tigers Assured of protection; these nocturnal creatures are seen often in the day. Sprawled on the Aravalli and Vindhya ranges of Rajasthan, Ranthambhore National Park encompasses an area of 410 Sq. km. in which lives a healthy population of about 40 tigers. A large number of deer inhabit the area and leopards are occasionally sighted. The Pandam Taloa lake, located adjacent to theJogi Mahal hunting lodge, is the park's favorite water source. Smaller pools at Raj Bagh and Milak also attract a variety of wild life The best way to explore Ranthambore is in open top vans as the park is well connected by arterial roads and tracks. Some of the popular sighting areas are Nal Ghati, Lahpur, Bakuala , Anantpur and the Kachida valley. Mammals : Tiger, Panther, Hyena, Jackal, Jungle Cat, Caracal, Sloth Bear, Sambar, Chital, Nilgai, Wild Boar, Chinkara, Indian hare mongoose. Birds : Bonelli's eagle, crested serpent eagle, great Indian horned owl, grey partridge sandgrouse, quail, spurfowl, common peafowl, tree pie, paradise flycatcher, pheasant tailed jacana, painted stork, black stork, spoonbill,green pigeon, ducks.
Overnight a Wildlife Resort.
Day 10 Ranthambhore / Delhi (Golden Temple – 1250 / 1900 Hrs)
Morning jungle excursion in open top vehicle
Later transfer to the train station to board your train to Delhi
Meeting and assistance upon arrival in Delhi and transfer to airport hotel to use washroom facilities in public areas. You may also choose to have refreshments or dinner before you are transferred in time to the airport for your onward flight
Contact Our Travel Expert - Get Free Suggestions on your India Tour