Recommended Tours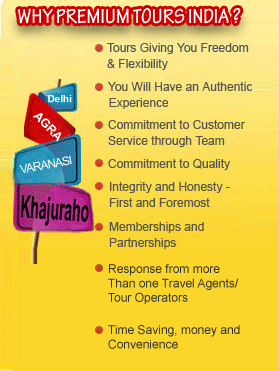 You Are Here >> Premium Tours India >> Wildlife Trip >> North India Wildlife Tour
North India Wildlife Tour
Duration : 19 Nights / 20 Days
Destinations Covered : Delhi - Ranthambore - Bharatpur - Fatehpur Sikri - Agra - Jhansi - Khajuraho - Bandhavgarh - Kanha Tiger Reserve - Nagpur - Kolkata - Jorhat - Kaziranga - Guwahati - Delhi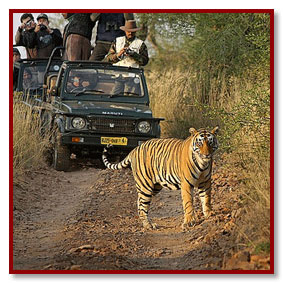 Day 01 Arrival / Delhi
Late night arrival. Meeting and assistance upon arrival as our representatives welcome you and escort you to your car.
Whilst the room keys and check-in is organized, our representative would introduce the tour to you and hand over the documents to you.
Welcome to India, or as we say "atithi devo bhava" (the guest is an incarnation of God). Thank you for giving us the opportunity to serve you!
Overnight at hotel.
Day 02 Delhi
After breakfast, we proceed on a guided tour of New Delhi, Visiting such sights as Bahai Temple, Humayun's Tomb (1586), the Qutab Minar 72 meters high and one of the most perfect towers in the Persian world. The Iron Pillar which has survived the vagaries of weather for over 1500 years. Continue with a drive through Embassy area, the Government buildings (1921-1930) and Connaught Place, the heart and main shopping district of the capital.
Afternoon, cross over to the Old Delhi. The capital of Muslim India between the 17th and 19th centuries, Old Delhi seems somewhat anachronistic as compared to New Delhi. It draws one through congested roads and lanes, interesting mosques, monuments and forts relating to its chequered history. Our tour includes visit to the Jamma Mosque (1650) and drive through the fabled area of Chandni Chowk (aptly translates to Moonlight Square) where the throngs of shoppers and vendors meet in the oldest area of Delhi, on to the Red Fort (1639-1648 built by Shah Jehan the builder of the Taj Mahal in Agra) to view the inlaid and carved Royal Chambers, on to Raj Ghat and nearby ghats where the founder of the nation, Mahatma Gandhi and thereafter Indira Gandhi and Rajiv Gandhi were cremated.
The highlight of this tour would be a ride on cycle rickshaws. Now these are 3-wheel cycles with a sofa seat at the back. The Rickshawalla (Rickshaw driver) sits on a small cushion in the front and two passengers on the sofa seat behind. This is a remarkable way to explore and picture the hustle and bustle as well as the colour of the narrow winding streets bursting with people and pavement shops selling wares of all description - including a laughing set of dentures. The ride would be accompanied by peals of laughter both from the passengers as well as the onlookers.
Home Visit & a Welcome Dinner with an Indian Family : This evening, we would visit an Indian family for an Indian home experience. The evening is designed to give you a feel and insight into Indian family life as well as experience typical Indian hospitality and home made Indian food.
Overnight at hotel.
Day 03 Delhi / Ranthambore (Golden Temple Mail 0755 / 0140 Hrs)
After breakfast transfer to the train station to board your train to Ranthambore.
Meeting & assistance upon arrival & transfer to the Wildlife Resort
Afternoon jungle excursion in an open top vehicle (Subject to train arriving in time)
Overnight at Pugmark Wildlife Resort.
Day 04 - 05 Ranthambore
Morning and evening, jungle excursions in an open top vehicle. Ranthambore is known to have India's Friendliest tigers Assured of protection; these nocturnal creatures are seen often in the day. Sprawled on the Aravalli and Vindhya ranges of Rajasthan, Ranthambore National Park encompasses an area of 410 Sq. km. in which lives a healthy population of about 40 tigers. A large number of deer inhabit the area and leopards are occasionally sighted. The Pandam Taloa lake, located adjacent to the Jogi Mahal hunting lodge, is the park's favorite water source. Smaller pools at Raj Bagh and Milak also attract a variety of wild life The best way to explore Ranthambore is in open top vans as the park is well connected by arterial roads and tracks. Some of the popular sighting areas are Nal Ghati, Lahpur, Bakuala, Anantpur and the Kachida valley. Mammals : Tiger, Panther, Hyena, Jackal, Jungle Cat, Caracal, Sloth Bear, Sambar, Chital, Nilgai, Wild Boar, Chinkara, Indian hare mongoose. Birds : Bonelli's eagle, crested serpent eagle, great Indian horned owl, grey partridge sandgrouse, quail, spurfowl, common peafowl, tree pie, paradise flycatcher, pheasant tailed jacana, painted stork, black stork, spoonbill, green pigeon, ducks.
Overnight at Resort.
Day 06 Ranthambore / Bharatpur
Morning jungle excursion in open top vehicle
After breakfast drive to Bharatpur
Upon arrival check into Laxmi Vilas Palace, the former home of the Maharaja of Bharatpur. Set amidst 40 acres of picturesquely landscaped environs, the palace was built in 1899 as residence for the Royal ladies. A lively fusion of traditional Rajasthani architecture and the prevalent Mughal style, this place with its regal ambience, sunny courtyards, and enchanting cupolas will mesmerize you.
Evening is designed for a tour of the world famous bird sanctuary here. The reserve boasts of over 300 species of resident and migratory birds
Overnight at luxury hotel.
Day 07 Bharatpur / Fatehpur Sikri / Agra (60 Kms)
After breakfast, we drive to Agra stopping at deserted capital city of Fatehpur Sikri. This abandoned capital of the Mughals is a perfectly preserved city at the height of the empire's splendour. The city divided into religious and secular parts has interesting well-sculpted buildings.
From here we continue riding to Agra.
Upon arrival check into hotel Howard Park Plaza
Later, we ride to the massive Agra Fort. The elegant buildings inside reflect an interesting synthesis of Hindu and Central Asian architectural styles. Built by Emperor Akbar, the maze of the courtyards, mosques & private chambers of the fort echo the story of the Mughal Empire. The Moti Masjid & other magnificent buildings reflect the skill of the ancient Indian architects.
Agra is the city of the Taj Mahal, perhaps the most photographed monument in the world. However, there is a degree of enigma about the Taj. Once you hear about a building so much and once you see so many pictures of a building your expectations are real high; and this is the enigma about the Taj Mahal. No matter how many pictures you have seen or no matter how high your expectations are the Taj never lets you down - the unparalleled glory and beauty of the building surpasses beyond all human imaginations. At sun set we visit the Taj Mahal to witness this spectacular monument built for love. Besides perfect symmetry in every aspect of its construction, the inlay work of semi precious stones into marble in pietra dura style is absolutely remarkable.
Overnight at hotel (Standard Room)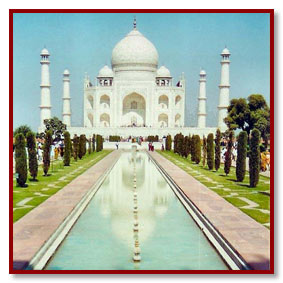 Day 08 Agra / Jhansi (Shatabadi Express at 0820 / 1040 Hrs)
Jhansi/ Khajuraho (180 Kms)
Following breakfast transfer to the train station for a short ride on India's premier train service to Jhansi
Meeting and assistance upon arrival drive through fascinating tribal country to Khajuraho.
Upon arrival check into your hotel Jass
This tiny village is famous for its remarkable complex of temples built in an inspired burst of creativity between 950 and 1050 AD under the Chandela kings. Of the original 85, only 25 survive and each is a masterpiece dedicated to different deities. The temples were lost among the forest for centuries and were accidentally discovered by a British army engineer in 1858. The presence of erotic temple sculpture, which accounts for less than 10% of the total carvings, has resulted in many theories. The most popular being that the Chandelas were followers of the Tantric cult which believes that gratification of earthly desires in a step towards attaining moksha or release from the cycle of rebirth
Afternoon, we meet our guide, and, proceed on a tour of the world famous western group of temples depicting erotic sculptures of love making images of Gods and Goddesses and celestial Nymphs. The sexual fantasies displayed in the sculptures are mind-boggling.It speaks very highly of the artistic creativity and imagination of the sculptors. The frank depiction of uninhibited sex does hint towards a liberated society and times where people believed in dealing openly with all aspects of life. The graphic and realistic illustrated scenes of lovemaking elaborated on the Tantric texts.
Sound & Light Show : -
Evening, we visit temple complex to enjoy Sound & Light Show, where the history of the temples is narrated through the medium of Sound & Light. This fascinating Son-et-Lumiere spectacle evokes the life and times of the great Chandela Kings and traces the story of the unique temples from the 10th century to the present day. Amitabh Bachhan, the Indian Super Star, narrates the story of Khajuraho in his mesmerizing voice
Overnight at Hotel (Standard Room)
Day 09 Khajuraho / Bandhavgarh (236 Kms)
Early this morning with breakfast we drive to Bhandavgarh
Bandhavgarh National Park, situated amid the airy Vindhya hills of Madhya Pradesh, has established a reputation as one of the best places in India to observe Tigers. Although a relatively small reserve when first established in 1968, it was enlarged twenty years later to include adjacent tracts of Sal forest and this extension has proved very beneficial for the Tiger population. The 105 square kilometres of park area, open for tourists is estimated to have a population of 22 tigers, a density of one tiger for every 4.77 square kilometers.
Like many Tiger reserves in India, the area was formerly the hunting reserve of a Maharaja and contains much evidence of its royal associations, most spectacular being the ruins of a huge hilltop fort, which dominates the centre of the reserve. Bandhavgarh is somewhat isolated in the rural heart of India but the long overnight train journey from Delhi is well worth the effort and visitors are richly rewarded by a fine selection of wildlife and the real chance of never to be forgotten encounters with the greatest of the big cats.
Upon arrival check into Mogli Resort
Late afternoon, enter the park to search for wildlife.
Overnight at wildlife Resort.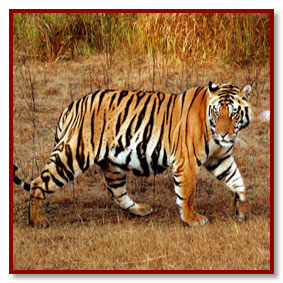 Day 10 - 11 Bandhavgarh Tiger Reserve
The pattern of early morning and afternoon excursions will be interspersed with periods of relaxation back at our accommodation during the heat of midday. Although Tigers are the star attraction at Bandhavgarh the supporting cast of mammals and birds is very impressive, the latter including such species as Grey-headed Fishing Eagle, Plum-headed Parakeet, Malabar Pied Hornbill, Greater Racket-tailed Drongo and Asian Paradise Flycatcher among a total of over 250 species recorded in the district. Tour members with an interest in ornithology will value the time between game drives as an opportunity to explore some of the habitats close to our base.
Tigers, and the more rarely seen Leopards, have no shortage of prey in the reserve. The Spotted Deer or Chital is a favourite item on the Tiger menu and several thousand of these delightful deer inhabit the park.
Other species found here in varying abundance include; Chinkara, Chowsinga, Wild Boar, Sambar, Muntjac and Nilgai. Herds of the Asian Bison, or Gaur, formerly Inhabited the Reserve but impressive beast has not been seen at Bandhavgarh since 1998 although a closely monitored programme for the introduction of the Gaur is planned within couple of years. A hunting pack of wild dogs may also be seen on occasions. Mammal sightings always require a degree of luck, particularly when the species is essentially nocturnal or reclusive but each outing in the reserve will at least provide a chance to meet one of the rarer inhabitants such as Sloth Bear, Indian fox, Jackal, Wolf, Ratel, Striped Hyenas, Jungle Cat or Indian Pangolin. More predictable are the sounders of Wild Boar rooting among the vegetation, Indian Hares, the lively little Palm Squirrels that seem to be constantly in a state of agitation, and several members of the mongoose tribe. Common Langurs and Rhesus Macaques are also plentiful, the former enjoying an elevated view of the forest as they devour their favourite leaves and often the first creature to bark out a warning at the appearance of a Tiger below.
We are never short of wildlife to watch in this gem of a reserve.
Overnight at wildlife Resort
Day 12 Bhandhavgarh / Kanha (325 Kms)
Following breakfast we drive to Kanha Tiger Reserve.
On arrival, transfer across the countryside to your safari headquarters for a two-day exploration of this vast, unspoiled central Indian preserve.
Upon arrival, check into Mogli Resort
Overnight at wildlife resort
Day 13 - 14 Kanha Tiger Reserve
Kanha National Park, which is one of the most well known tiger reserves worldwide, is located among the Banjar and Halon valleys in the Mandla / Balaghat districts of the state of Madhya Pradesh. Its creation took place among, and after, a lot of turbulence and storm within concerned circles regarding rampant killing of wildlife in the area at the time. The central Kanha valley was declared a sanctuary way back in 1933 but got its status as a National Park in 1955. It covers a large area of 1,945 square kilometers, out of which 940 square kilometers form the main park. The altitude of the park ranges from 450 meters to 900 meters above sea level. The temperature, depending on the season, ranges from 0 degrees in the winters to 48 degrees in the summers. The park remains open from the 01st of November to the 30th of June. Sometimes, as with most parks of the country, it can be closed earlier if the monsoon season arrives sooner than expected. The park has a heavy monsoon season with an average annual rainfall of 1600mm. The basic infrastructure at the park is well developed and visits can "mostly" be expected to pass without any problems.
Kanha is also famous for it's animal conservation efforts made in collaboration and cooperation with the local resident communities. One of the famous success stories of the park is the survival of the Barasingha population in the park, which went down to as low as 66 animals in 1970 from the earlier 3000 and which through huge efforts have now revived to a respectable number of around 1000. Kanha boasts of many such success stories of which this is only an example.
Kanha National Park is world famous for it's tigers. Tiger sightings are not as rare as in most other parks of the country. The only other reserves in the country that can claim to have as many sightings as Kanha are Ranthambor and Kanha's own neighbour, Bandhavgarh.
Other than the tiger, some of the more frequently seen animals in the park consist of Leopards, Gaur, Chausinghas, Sloth Bears, Barking Deer, Swamp Deer (Barasingha), Blackuck, Langurs, Wild Boars, Porcupines, Mouse Deer, Hyenas, Jackals and Wild Dogs (Dholes).
The reptile residents of the park consist of Monitor Lizards, Pythons and a large variety of other snakes.
Overnight at Mogli Resort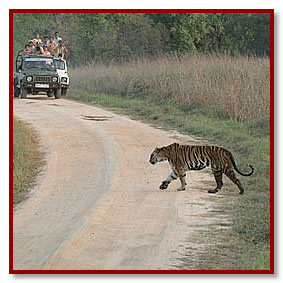 Day 15 Kanha / Nagpur (260 kms / 06 hrs)
Nagpur / Kolkata (DN 700 - 1615 / 1755 hrs)
Morning proceed for your last safari into the park.
After breakfast we drive to Nagpur airport to board your flight to Kolkata.
Meeting & assistance upon arrival check into the hotel Peerless Resort
Rest of the day is at leisure for your independent activities.
Overnight at Resort
Day 16 Kolkata/ Jorhat (9W 621 – 1105 / 1345 hrs)
Jorhat / Kaziranga (90 kms / 02 hrs)
After breakfast transfer to the airport to board your onward flight for Jorhat
Meeting and assistance upon arrival and drive to scenic landscape to Kaziranga
On the banks of Brahmaputra River, Kaziranga covers approximately 106,255 square acres, and includes swamps and tall thickets of elephant grass, making this ideal habitat for the Indian one-horned rhino. The park was declared a sanctuary in 1940 in an effort to protect rhinos from poaching. Indian rhino. A vast stretch of coarse, tall elephant grass, marshland and dense tropical forests, it has managed to survive the onslaught of poachers, urbanization and burgeoning human populations. Plans are already afoot to extend the park's boundaries to include the Brahmaputra River to the north and a part of the Mikir hill ranges to the south.
Upon arrival we check into Wild Grass Nature Reserve An ethnically designed lodge with wooden ceilings and furniture blending beautifully with the forest.
Overnight at Resort (Standard Room)

Day 17 & day 18 Kaziranga
Morning and evening jungle excursion in an open top vehicles
Beside of course the great one horned Indian Rhino, the other majorwild attractions include a large population of Indian Elephants, Indian Bison, Swamp Deer or Barasingha, Hog Deer, Sloth Bears, Tigers, Leopard Cats, Jungle Cats, Otters, Hog Badgers, Capped Langurs, Hoolock Gibbons, Wild Boar, Jackal, Wild Buffalo, Pythons, Monitor Lizards, etc.
Kaziranga National Park is a birding paradise; the grasslands are a raptor country that can be seen on safari makes a remarkable experience. These include the Oriental Honey Buzzard, Black-Shouldered Kite, Black Kite, Brahminy Kite, Pallas's Fishing Eagle, White Tailed Eagle, Grey-Headed Fishing Eagle, Himalayan Griffon, etc. Huge numbers of migratory birds descend on the parks lakes and marshy areas during winters, including Greylag Geese, Bar-Headed Geese, Ruddy Shelduck, Gadwall, Falcated Duck, Red-Crested Pochard and Northern Shoveller.
The vast open country makes Kaziranga National Park very accessible and wildlife viewing fairly pleasurable. Here one can leave in the early hours of the dawn for an elephant-back-ride. Authorized and trained Mahouts who guide visitors through the park train the Elephants. One could see wild Elephant herds roaming around or Indian Rhinos browse past visitors unconcernedly. Since Kaziranga wildlife Sanctuary is easily accessible, its provides a chance to see animals in the wild at such close quarters, thus making a trip to this National Park a very rewarding experience.
Overnight at Wildlife Resort (Standard room)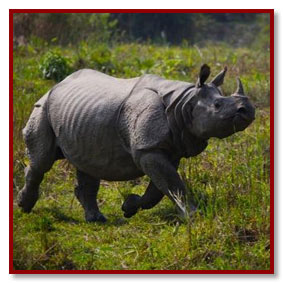 Day 19 Kaziranga / Guwahati (250 Kms)
Guwahati / Delhi (9W 608 1620 / 1835)
After breakfast transfer to Guwahati airport in time to board your flight for Delhi.
Meeting and assistance on arrival at Delhi airport and transfer to your hotel The Connaught
Overnight at The hotel.
Day 20 Delhi / Departure
Transfer to the airport to connect your flight back home
END OF SERVICES
We do hope the flavor of India will remain on your taste buds for all times to come and hopefully would kindle an indelible fondness for the country and her people; Thank you for being our guest, and as we say in India 'Please Come back Soon"
Contact Our Travel Expert - Get Free Suggestions on your India Tour